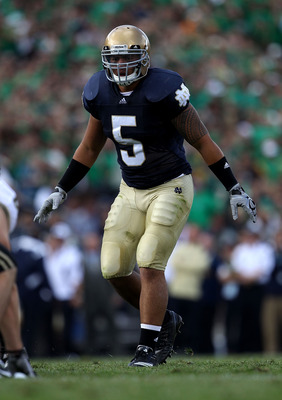 For those in the heartland that aren't Baptist goat bangers…the Notre Dame Fighting Irish take on Michigan on Saturday Night at Notre Dame Stadium. On paper, ND looks to have the advantage based on a SEC'esque front seven, a talented pool of running backs, and the ability to finally play mistake free football in year three of Brian Kelly's tenure in South Bend.
However, like all rivalries, throw any and all preconceived notions out the Windah. Denard Robinson has been dynamite in this series and should makes plays on his own…especially against a young ND secondary. This ND fan is nervous and worried about a let-down after an emotional beatdown of Sparty last weekend in East Lansing.
Win this game and ND is in pretty good shape heading into the bye week. Unfortunately, Miami, BYU, Stanford, and Oklahoma await ND (not to mention a Thanksgiving trip to USC). The arrow is pointed up for an ND program that hasn't been competitive since 1993. However, like most jaded domers, I'm gonna take a wait and see approach.
ND: 27
Michigan: 24
Bring it on HAWKSTER HATERS.